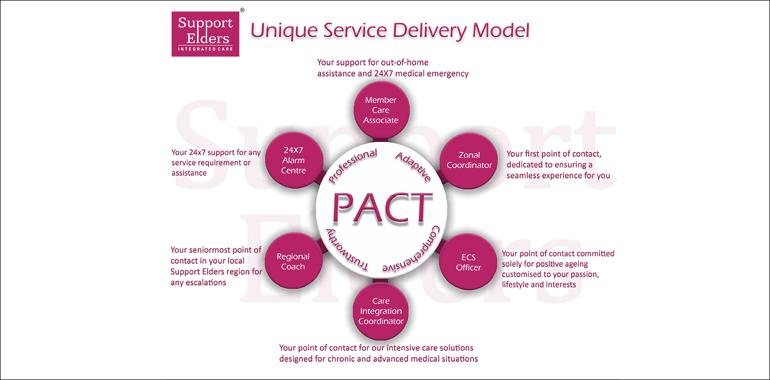 Unique Service Delivery Model
We, at Support Elders, have integrated various modes of care services to provide a comprehensive solution to our members, that is delivered with empathy by people who work with Professionalism, are Adaptive, provide Comprehensive solutions through a Trustworthy platform—in short PACT.
This care model is designed to provide personalised care, taking into account the unique needs of each member, while preserving their independence and quality of life. This is achieved through six work units. First, the Member Care Associate takes care of 24x7 medical emergencies and Out-of-Home Assistance. Second, the Zonal Coordinator is the first point of contact, dedicated to ensuring our member's wellbeing and meeting of service-based requirements. Third, the ECS Officer calls daily to check on each member's wellbeing and visits members to help them remain socially engaged and enable positive ageing in them. Fourth, the Care Integration Coordinator, dedicated for members who need more advanced/ critical care solutions and subscribe to Well@Home and MedicAssist@Home range of solutions, ensures our member's overall wellbeing by monitoring the tech-based devices; keeping note of our member's health parameters; coordinating with member's doctors; and assessing service requirements. Fifth, the Regional Coach can be contacted for any escalations. Sixth, our Alarm Centres function 24x7 and can be reached at any time for notifying medical emergencies or for any service-related assistance.
Our unique care model sets us apart and helps us fulfil our commitment to provide the highest level of compassionate care to our members.


---