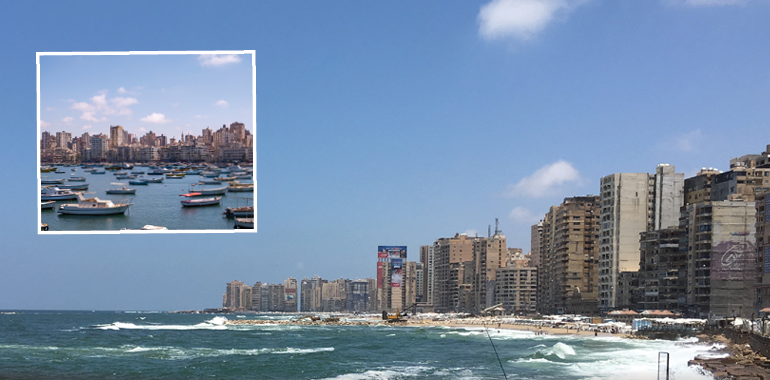 Egypt – The Alexandria Chapter
Our member Ms A. Roy is a teacher who visited various places throughout her life. But her dream destination was Egypt about which she shares her memories with us.
To know the unknown, to discover the undiscovered and to travel the untravelled is what inspires most of us to set off for lands far away.
Egyptian civilisation has always fascinated and piqued the curiosity of many. It was my dream to visit Egypt. I realized my dream in October, 1970. We took a flight from Kolkata to Dubai. During our two hours layover we were taken to see Al Burj and the dancing fountains which were really outstanding.
Our next flight took us to Cairo. From Cairo we went to Alexandria, the intellectual and cultural hub of the ancient Mediterranean,created by Alexander the Great. It is considered as the second largest city in Egypt and the largest city on the Mediterranean coast. Our hotel had a magnificent view, as it was situated on the coast of the Mediterranean Sea. On our arrival, we were welcomed with a rose and a welcome drink. Our room was fantastic and overlooked the sea. We spent a luxurious time in the hotel, had grand lunch and a nice cosy dinner.
The next day we were taken to see the city of Alexandria—the old cobblestone streets and alleys which gave it a European look. It was picturesque and connected us to the town's rich history. At the Alexandria Archaeology Museum, we saw a Native American tool similar to an arrowhead that was over 13000 years old, which makes it the oldest artifact ever found. The Alexandria National Museum is a historic museum, where there are remnants of the Pharaonic era till the Hellenistic Heyday.
Fort Qaitbey a miniature fort is actually an alternative to the Pharos lighthouse, which has been guarding Alexandria's eastern harbour since 1480. This fort was built to protect the Egyptian port from intruders. The Egyptian cotton showrooms were also a delight to watch. The city was fabulous. Enclosed in the courtyard of the royal palace are the Al Montaza royal gardens which is worth visiting.
I had a splendid time in Egypt. There are numerous other places of visit in Egypt and this is just the beginning.