Happy Festivities!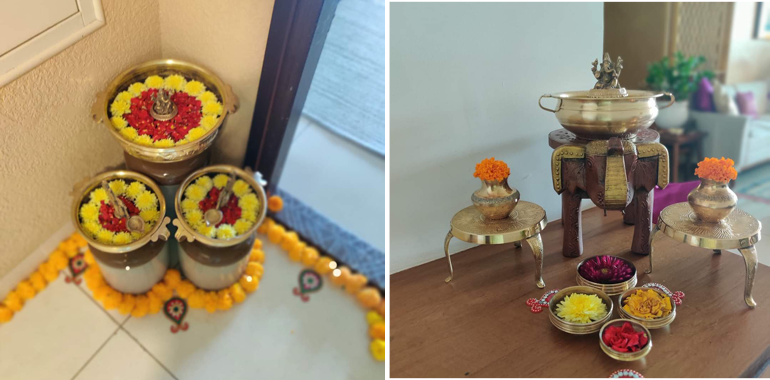 Ugadi
Ms. S. Manchala, our member from Hyderabad, has shared the traditional way of celebrating Ugadi or Telugu new year.
Ugadi is celebrated with much fervour and devotion in Telangana and Andhra Pradesh. It is a time for housecleaning and housewarming ceremonies. We wear new clothes and offer pooja either at home or at temples. Since it is an auspicious beginning of the new year, we decorate the entrance of our houses with rangoli and tie mango leaf toranas at the top of the main entrance door. Traditional attire is worn. Many people consult pandits or the Telugu new year calendar or special panchanga programs on TV to try and find out how the entire year will go. It is kind of a mathematical calculation of the planetary positions to understand how the future will be. During this occasion, either we visit our relatives or they come to our house. Ugadi Pachadi, a special preparation, is offered to all guests who visit us. In villages, cows are decorated and they, as well as the agricultural fields, are worshipped. Traditional dresses are worn and rituals are followed more rigidly in the villages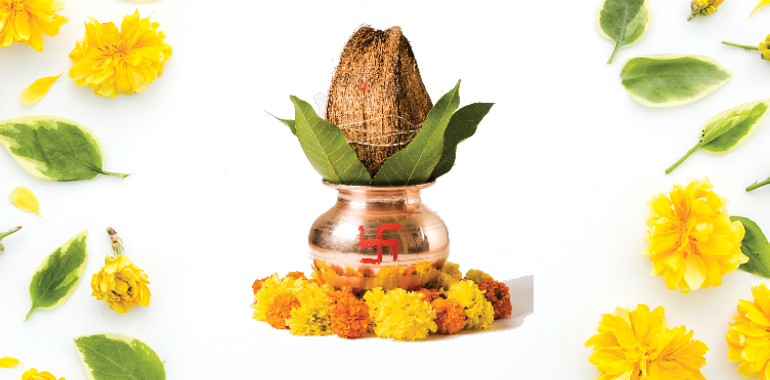 Poila Boishakh
Our member Ms G. Dutta of Kolkata, hails from Bikrampur, Dhaka and has beautifully explained her childhood experience of the Bengali new year 'Poila Boishakh'.
'Chorok mela' or Chaitra mela during the last month of the Bengali calendar was prevalent in my childhood. Many different kinds of things were available in this fair. It was an exciting time for all, especially children, as sweets and snacks were available in plenty in this fair.
On this day, we wore new clothes and savoured rice, mutton curry and sweets. Prior to this my grandmother used to take us to Kalighat to offer prayers to Goddess Kali and purchase the Ganesha idol on our way back, to be installed and worshipped at home. She used to invite Brahmins to a sumptuous meal of luchi, potato curry, sweets and curd.
Worshipping Goddess Laxmi and Lord Ganesha is customary in business communities, till date. It is believed that Ganesh Puja is propitious. 'Halkhata' or worshipping the new account book in the presence of these idols is considered a great start for business. All business families, irrespective of the type of business, follow the same ritual. At night, customers were invited and were offered sharbat and sweets and were gifted calendars and panjika.